|| Die deutsche Versionen befindet sich unter der englischen Version ||
On Monday, 14 December 2020, several residents of the refugee camp of Katsikas were subjected to forceful evictions, some from their containers (into a different container) and others from the camp entirely. According to eye-witnesses, the police enacting said evictions used aggressive measures including teargas and sound bombs; the resistance of individual camp residents culminated in the arrest of at least four persons. This report is based on the statements of camp residents who witnessed the events of Monday, 14 December, and Tuesday, 15 December.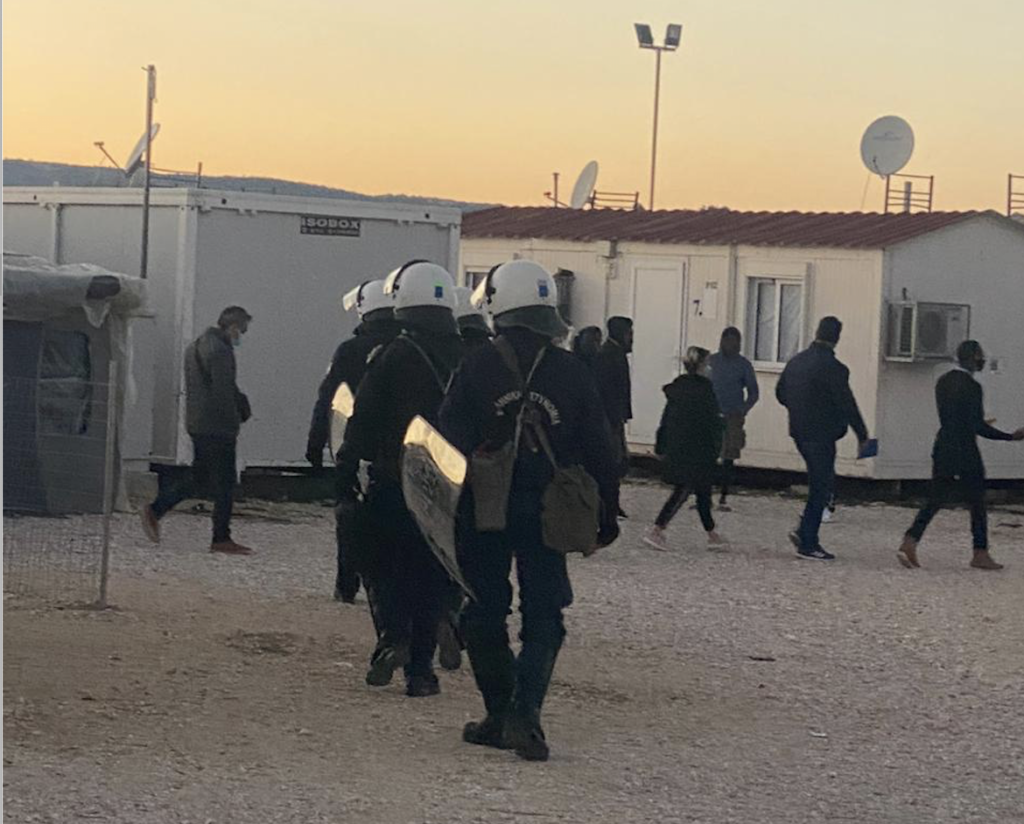 On the morning of 14 December, riot police surrounded the refugee camp of Katsikas. Eye-witnesses confirmed that the riot police had been present from approximately 6 AM without clear reason, as there had been no incident which would have required their presence. 
Around 10AM, the police began moving through the camp, informing specific families and individuals of the fact that they had to move to other containers. Some others were told that additional people would be moved in with them and yet again others were informed that they had to leave the camp altogether. According to several residents, 8 families/individuals were evicted from the camp that day. In cases in which residents were not found in their containers, the police forced entry, dragged personal items outside and changed the locks. 
 Resistance by individual residents of the camp was met with the use of teargas, violence (including batons) and sound bombs from the side of the police. At least four people were arrested. One of them was a family father of four children who refused to have an additional 3 people move into the container in which the family of 6 lives. A man who states to hold a medical note attesting to his severe mental health condition was arrested because he refused to move into a container with 7 others. After having been arrested and released, having lost the only shelter he had and not receiving any information from the camp management on the following day either, he stabbed himself, causing injuries that required his immediate hospitalisation. He is one of two persons who had to be hospitalised due to self-harm after the police intervention on Monday. These reactions are illustrative of the emotional and mental toll this situation has – it can be regarded as a consequence of the fatigue brought on by this indefinite situation, of the police intervention as well as of the despair and anxiety created by the question of where to go in the middle of winter, in the middle of a nationwide lockdown and a global pandemic without understanding the local language and without sufficient financial resources
Two persons had to be hospitalised with severe injuries due to self-harm as a consequence of the forced moves and evictions. These reactions are illustrative of the emotional and mental toll this situation has. 
Several current residents of the camp are facing pressure to leave the accommodation structure by the end of 2020, including more than 40 families. Those being asked to leave have been pointed to the HELIOS program, which is supposedly assisting people in finding their own accommodation. But there have definitely not been enough efforts made on integrating people and on orienting them on how to navigate within the Greek system and society.
At the same time as people are being forced to share the limited space in a container with even more people or being moved out of the camp altogether, other asylum seekers are being moved into the camp. Several residents stated they heard about 150 new people who were going to be transferred into the camp. A first group of new residents arrived already the next day – 15 December. For the time being, before spaces are made available in the containers, the new arrivals are being put up in a large tent, which is exposed to steadily dropping temperatures and heavy rains. 
Background: What led to this incident?
A substantial proportion of asylum seekers and refugees in Greece is forced to live in isolated refugee camps in often dire conditions. In Katsikas camp, as in many other camps, the residents stay in containers which they share, sometimes with up to 8 other persons – these being family members or complete strangers. This solution for accommodation is, as such, highly questionable in a country in which empty buildings are available in abundance, let alone on a continent that can be considered one of the most powerful and wealthy regions in the world today. 
Within the current asylum system, people usually have to wait for one or two years in these conditions before a decision about their asylum claim is made. Once they receive a positive decision, they are given a grace period of only four weeks to leave their spaces in the containers and find their own accommodation (more about the change of the grace period from 6 months to four weeks here). In practice, this confronts people with the impossible task of having to act like integrated members of the host society, while in reality no integration pathways have been made available to them. The language barrier and the financial situation are obstacles that most cannot easily overcome; these barriers are exacerbated in the current situation of being in a nationwide lockdown brought on in response to a global pandemic. The authorities had put previous processes around the evictions on hold due to the ongoing pandemic. Now however, new people are being brought to the camp of Katsikas and current residents are being evicted, even though the conditions that brought this process to a halt remain unchanged: The pandemic continues unabated and the national lockdown was recently extended into 2021. Meanwhile, temperatures are steadily dropping and will reach their lowest point in January-February. It is difficult to find the logic behind revamping the evictions under the present conditions. While space is needed for new arrivals to the camp who lack adequate accommodation,  the solution cannot be to force people into overcrowded containers or to leave others homeless. Instead of forcing people into tents or onto the streets, the authorities – and all of us – need to question the approach of hosting tens of thousands of people in these isolated ghettos and unacceptable conditions in the first place. 
We urge the European government to support Greece in providing dignified, sustainable solutions instead of using Greece as a barrier that shields them from the need to assume responsibility. 
We urge the Greek authorities to stop evicting people from the only accommodation available to them under the current situation. We urge the Greek authorities to make accommodations available to asylum seekers that are not overcrowded, that are a risk for their mental health and that remove dignity from their lives. We urge the European governments to support Greece in providing dignified, sustainable solutions for people who come to Europe in search of freedom and safety, instead of using Greece as a barrier that shields them from the need to assume responsibility. 
|| German Version ||
Pressemitteilung – Zwangsräumungen und -umzüge in Katsikas' Flüchtlingslager haben schwerwiegende Folgen für mentale Gesundheit Geflüchteter
Posted on 22. December 2020
Am 14. Dezember 2020 fanden im Flüchtlingslager von Katsikas mehrere Zwangsräumungen und -umzüge statt. Augenzeugenberichten zufolge setzte die Polizei dabei Tränengas und Schallbomben ein; der Widerstand individueller Personen gipfelte in der Festnahme von mindestens vier Personen. Dieser Artikel über die Ereignisse des 14. Und 15. Dezember basiert auf den Augenzeugenberichten mehrerer Lagerbewohner:innen.
Am Morgen des 14. Dezember wurde das Flüchtlingslager von Katsikas von Bereitschaftspolizei umstellt. Augenzeugen bestätigten, dass die Einsatzkräfte bereits um 6 Uhr morgens anwesend waren, zunächst ohne jeden ersichtlichen Grund. Gegen 10 Uhr begann die Polizei sich durch das Camp zu bewegen. Die Einsatzkräfte informierten einzelne Familien und Individuen über die Tatsache, dass sie in andere Container umziehen müssten. Andere wurden darüber informiert, dass weitere Personen in ihre Container gebracht würden und wieder andere wurden darüber informiert, dass sie das Lager zu verlassen hätten. Mehreren Bewohner:innen des Camps zufolge wurden an diesem Tag 8 Familieneinheiten/Individuen aus dem Camp ausgewiesen. In Fällen, in denen Bewohner:innen nicht in ihren Containern angetroffen wurden, verschaffte sich die Polizei gewaltsam Zutritt, räumte die Container von persönlichen Gegenständen und tauschte die Schlösser aus.
Vereinzelter Widerstand wurde von der Polizei mit dem Gebrauch von Tränengas, Gewaltanwendung (einschließlich Schlagstöcken) und Schallbomben erwidert. Mindestens 4 Personen wurden festgenommen, einer von ihnen ein Ehemann und Vater von 4 Kindern der sich weigerte, zusätzlich zu der sechsköpfigen Familie 3 Fremde in den beengten Container einziehen zu lassen. Ein Mann, der mehrfach zum Ausdruck brachte, ein medizinisches Gutachten zu seiner schwerwiegenden mentalen Erkrankung zu haben, wurde festgenommen weil er sich weigerte mit 7 anderen jungen Männern in einen Container zu ziehen. Im Laufe des Tages wurde er wieder freigelassen und musste daraufhin feststellen, dass er seinen bisherigen Platz in einem Container im Camp verloren hatte. Als er nach einer Nacht im Freien auch am nächsten Tag keine Informationen vom Camp-Management erhielt, verletzte er sich durch mehrere Stichwunden vor Augen der Camp-Manager so schwer, dass er unverzüglich in ein Krankenhaus eingeliefert werden musste. Er ist einer von zwei Personen, die aufgrund von schweren, selbstzugefügten Verletzungen nach der Zwangsräumung in ein Krankenhaus eingewiesen werden mussten.
Diese Reaktionen verdeutlichen die emotionalen und mentalen Folgen dieser Situation. Nicht nur der gewaltsame Polizeieinsatz, sondern auch die grundlegende, überwältigende Ungewissheit hinsichtlich ihrer Zukunft und Sicherheit, sowie die wachsende Verzweiflung aufgrund der akuten Frage, wohin man sich mitten im Winter, mitten in einem landesweiten Lockdown ohne Sprachkenntnisse und finanzielle Ressourcen auf der Suche nach Unterstützung und Schutz wenden kann, stellen für die Betroffenen schwere Belastungen dar.  
Zwei Personen mussten nach schweren, selbstzugefügten Verletzungen in Folge der belastenden Zwangsräumungen in ein Krankenhaus eingeliefert werden. Diese Reaktionen zeigen deutlich, wie groß die mentale und emotionale Belastung ist.
Mehrere Bewohner:innen des Camps sehen sich unter Druck gesetzt, das Camp in den nächsten Wochen zu verlassen, darunter auch mehr als 40 Familien. Diejenigen, deren offizielle Zeit der Unterbringung  im Camp zu Ende geht, werden an das sogenannte HELIOS Programm verwiesen, welches offiziell bei der Suche nach individuellen Unterkünften unterstützen soll. Innerhalb der vergangenen Jahre, während derer die Betroffenen auf  Entscheidungen in ihren Asylverfahren warteten, wurden jedoch kaum Versuche unternommen, die Menschen in die griechische Gesellschaft zu integrieren und sie auf ein eigenständiges Leben in diesem Land vorzubereiten.  
Während auf der einen Seite die Menschen, die ihren positiven Asylentscheid erhalten haben aus dem Camp ausgewiesen werden, werden auf der anderen Seite neue Asylsuchende in das Lager verbracht. Mehrere Bewohner:innen des Camps berichteten von 150 Personen, die ins Camp verbracht werden sollten. Am 15. Dezember erreichte bereits eine erste Gruppe neuer Bewohner:innen das Lager. Während der Zeit, in der noch keine Plätze in Containern für sie zur Verfügung stehen, sind sie in großen Zelten untergebracht, die dem heftigen Regen und den stetig sinkenden Temperaturen ausgesetzt sind.
Was führte zu diesem Vorfall?
Um den Zusammenhang und die Gründe für diesen Vorfall zu verstehen, muss man wissen, dass ein erheblicher Teil der Asylbewerber und Geflüchtete in Griechenland gezwungen ist, in isolierten Flüchtlingslagern unter oft katastrophalen Bedingungen zu leben. Im Lager von Katsikas, wie auch in vielen anderen Lagern, leben die Bewohner in Containern, die sie sich mit bis zu 8 anderen Personen teilen – je nach Fall mit Familienmitgliedern oder mit vollkommen Fremden. Diese Lösung muss scharf kritisiert werden in einem Land, in dem leere Gebäude überall zur Verfügung stehen, auf einem Kontinent, der heute als eine der mächtigsten und reichsten Regionen der Welt gelten kann.
Im Rahmen des derzeitigen Asylverfahrens müssen die geflüchteten Menschen in Griechenland in der Regel ein bis zwei Jahre in diesen abgeschiedenen Lagern warten, bevor eine Entscheidung über ihren Asylantrag getroffen wird. Mit Erhalt eines positiven Bescheides beginnt eine Schonfrist von nur vier Woche, während derer sie eine eigene Unterkunft finden müssen. In der Praxis stellt diese Anforderung die Menschen vor die unmögliche Aufgabe, sich wie integrierte Mitglieder der Aufnahmegesellschaft zu verhalten, während ihnen in der Praxis keinerlei Maßnahmen zur Integration angeboten wurden. Die Sprachbarriere und die prekäre finanzielle Situation sind Hindernisse, die die meisten nicht einfach überwinden können; diese Hürden sind in der aktuellen Situation eines landesweiten Lockdowns, während einer globalen Pandemie noch unbezwingbarer. Aus diesem Grund hatten die zuständigen Behörden Zwangsräumungen während des Jahres 2020 mehrfach verschoben. Die Zwangsräumungen zum Ende des Jahres wieder aufzunehmen, obwohl sich an den Bedingungen, die zu dem Aufschub geführt hatten nichts geändert hat und die Temperaturen zudem stetig sinken, erscheint absolut fragwürdig. Die zuständigen Behörden üben aufgrund der kontinuierlichen Ankunft von Männern, Frauen und Kindern auf den griechischen Inseln weiteren Druck auf ein fehlerhaftes System aus. Während wir uns darüber im Klaren sind, dass Platz für die neu ankommenden Asylsuchenden gebraucht wird, so sind wir doch der Meinung, dass die Lösung nicht in der Überfüllung von Wohncontainern liegen kann, oder in Zwangsräumungen, die Menschen in die Obdachlosigkeit drängt. Statt Menschen in Zelte oder auf die Straße zu zwingen, müssen die Behörden – und wir alle – dringend grundsätzlich den Ansatz hinterfragen, Menschen in isolierten Ghettos und unter unwürdigen Bedingungen unterzubringen.  
Wir fordern die Regierungen Europas dazu auf, Griechenland dabei zu unterstützen, menschenwürdige, nachhaltige Lösungen für die aktuellen Herausforderungen im Zusammenhang mit Flucht und Migration zu finden, statt sich hinter Griechenland wie hinter einem Schutzschild vor der Übernahme von Verantwortung zu verstecken.
Wir fordern die griechischen Behörden dazu auf, die Zwangsräumungen einzustellen. Wir fordern die griechischen Behörden außerdem dazu auf, Unterkünfte für Asylsuchende einzurichten, die nicht vollkommen überfüllt sind, ein Risiko für ihre mentale Gesundheit darstellen und zudem entwürdigend sind. Wir fordern die Regierungen Europas dazu auf, Griechenland dabei zu unterstützen, menschenwürdige, nachhaltige Lösungen für die aktuellen Herausforderungen im Zusammenhang mit Flucht und Migration zu finden, statt sich hinter Griechenland wie hinter einem Schutzschild vor der Übernahme von Verantwortung zu verstecken.